Boost Your Tax Benefits
Click on the tabs below to learn how each of these strategies can provide tax benefits to you.
Colorado Childcare Contribution Tax Credit (CCTC)
Your cash gift can qualify for a Colorado state tax credit, reducing your state tax bill by 50% of the amount of your gift.  Please indicate "CCTC" on your check or in the comments when making a gift online so we know you'd like us to certify your gift for this credit.  Here's an example of how your CCTC can benefit your taxes: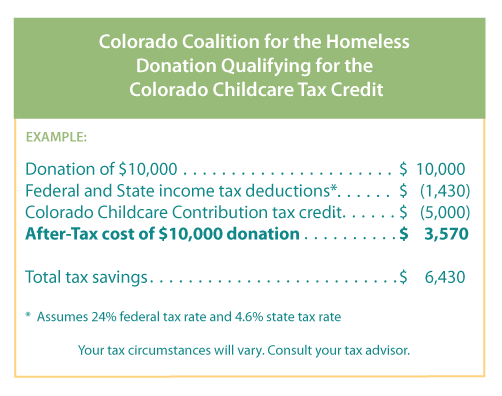 Homeless Contribution Tax Credit
The Colorado Homeless Contribution Income Tax Credit provides a tax credit to Colorado taxpayers that contribute to eligible homelessness related projects within Colorado, such as the Colorado Coalition for the Homeless. Please note the following information about qualifying for this credit.
Qualifying Gifts
Cash gifts of $500 or more (must request credit when making gift)
Stock or in-kind gifts of $5,000 or more (must request credit when making gift)
Requirements to claim credit:
The state is requiring taxpayers to provide their full social security number to the nonprofit in order to certify the gift with the state. Please contact us at (303) 312-9640 to provide this.
The total value of tax credits allowed per taxpayer per year may not exceed $100,000.
If you have questions about this new credit, please call (303) 312-9634 or email us for gift planning support. 
Tax Benefits of Donating Stock
The Coalition gratefully accepts gifts of publicly traded securities.  Securities are easily valued without an appraisal and are easy to transfer. Donating appreciated securities typically results in tax advantages:
You can deduct the current market value of your stock gift from your federal taxes.
You pay no capital gains tax on the appreciated value.
Your stock gift of $5,000 or more can qualify for the Homeless Contribution tax credit for 25% of the donation.
Colorado Coalition for the Homeless Stock Transfer Details
Fidelity Investments (800-343-3548)
For Credit To: Colorado Coalition for the Homeless
Account Number: Z50-669288
DTC Number: 0226
Taxpayer Identification Number: 84-0951575
Please email us at giftplanning@coloradocoalition.org with the following information regarding your planned stock transfer: Your name, type of stock, number of shares being donated, and expected date of transfer.